Quality Rehabilitation To Restore Your Independence
Caring for the families of Hendrick's County and surrounding areas, we've dedicated our lives to helping Hoosiers stay physically strong, spiritually resilient, and mentally healthy. That's why we've been the leading rehabilitation, nursing, and memory care experts for almost 30 years now. At Plainfield Health Care Center, healing starts with the first step forward.
At Plainfield Health Care Center, we've designed a specialized and separate unit to meet the distinctive needs of individuals with Alzheimer's and other dementias. Designed to maximize resident safety, the Director of our Caring Hands Neighborhood, Dr. William Arnold, had implemented numerous different types of security protocol and capacities such as 24-hour supervision provided by our experienced and professional nurses and a keypad authorization to open every exit and entrance to Caring Hands facilities.
Our team of in-house psychiatric professional staff works together to develop personalized Caring Hands programs and memory care exercises to improve each resident's overall cognition and productivity and capacity for memory retrieval. Receiving the very latest in therapeutic modalities and cutting-edge cognitive science, you can rest peacefully and confidently that your loved one is in the best of hands.
Alzheimer's and Other Dementias
Our staff of highly-educated psychiatrists and experienced Memory Care nurses can help keep your loved one's minds sharp and active. Developed to exercise the neural pathways that are essential for healthy cognition and memory retrieval, we encourage residents to play games, solve puzzles, get creative with arts and crafts, and celebrate their accomplishments.
Music Therapy
Notably as effective as it is enjoyable, music therapy can reduce anxiety, improve a patient's capacity for memory retrieval, and help to maintain motor skills of those who are in the later stages of dementia. Depending on your loved one's areas of difficulty and the goals that have been set for them by you and our Caring Hands directors and staff, our music therapist has experience using numerous different types of music in order to hone the therapeutic benefits distinctive to each one.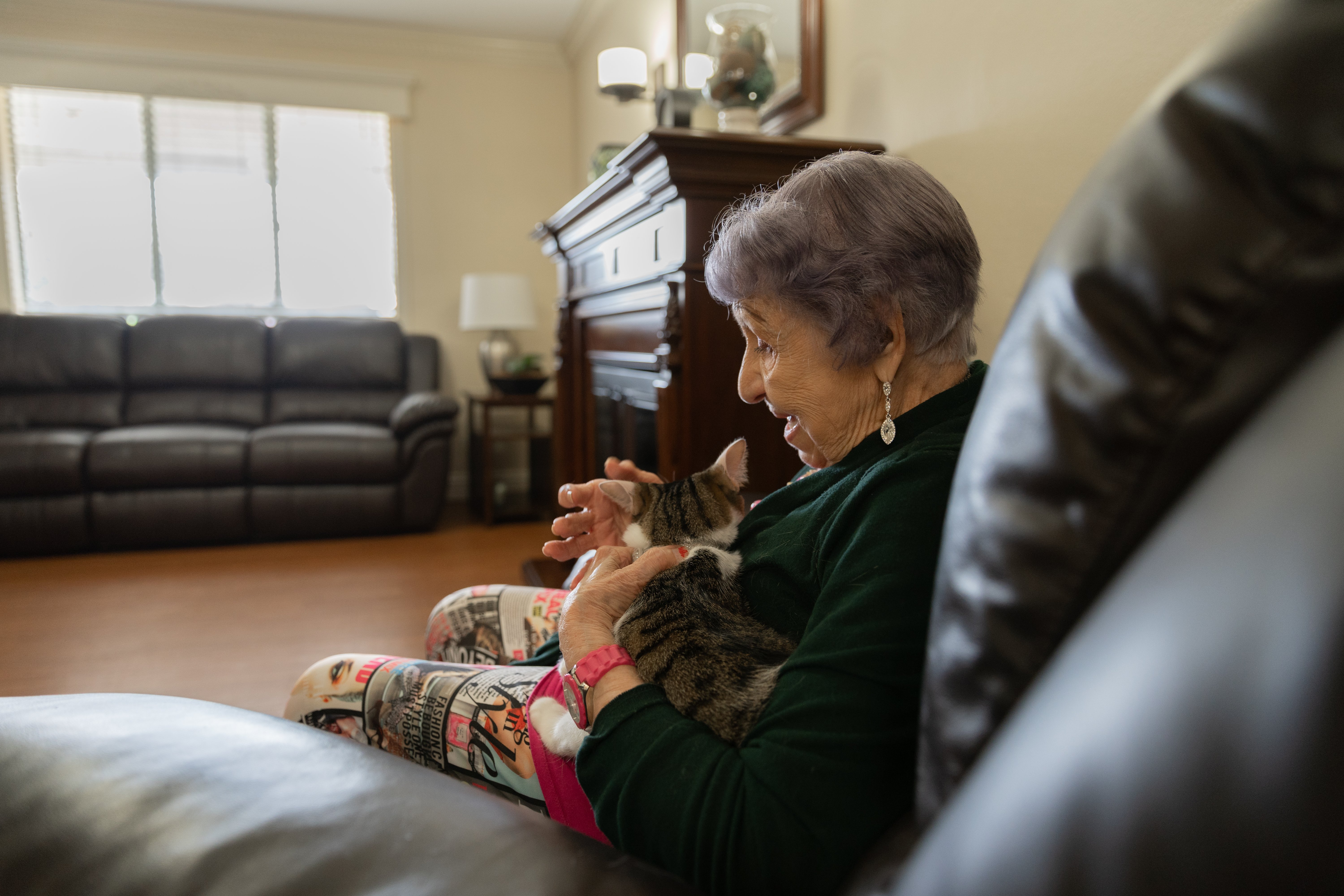 Pet Therapy
An innovative treatment method, pet therapy is particularly popular across our entire HCC family and affiliates. Studies have shown that pet therapy significantly improves unwanted behavioral responses to negative emotions, reduces feelings of loneliness, and stimulates movement and physical activity. Furthermore, spending time with animals is also a highly-effective way to alleviate anxiety and confusion. In addition to regular visits made by service dogs and their owners, Memory Care residents also enjoy petting and caring for our in-house birds and feline friends.