Quality Rehabilitation To Restore Your Independence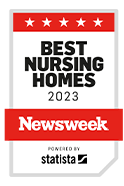 Caring for the families of Hendrick's County and surrounding areas, we've dedicated our lives to helping Hoosiers stay physically strong, spiritually resilient, and mentally healthy. That's why we've been the leading rehabilitation, nursing, and memory care experts for almost 30 years now. At Plainfield Health Care Center, healing starts with the first step forward.
Best of Indiana Elder Living
2015, 2014, 2012
Keep Indiana Beautiful
2015, 2011
Silver Awardee for
Quality of Care 2018
I am so happy I made the choice to work for Plainfield Health Care! I accepted the Activity Director position in our memory care unit. I have worked with residents with dementia for 18 plus years and Plainfield Health Care is one of the best Memory Care Units I have worked in. The staff are very compassionate toward our residents and the unit is beautiful and calming.
This is a great nursing home the aids actually know what they are doing, and they take great care of the residents. I would recommend this facility for any family members.
Our mom was there and they have a great staff. Awesome place for your family when needed. If you ever need to do this they walk you through the process and are there with you every step of the way.
The staff at Plainfield Health Care are beyond awesome they are truly driven in all aspects of how they perceive each patient's needs. I have been in 3 facilities for aftercare from various surgeries and believe me the staff at Plainfield Health Care meet not only the patients every need but stay intact with the family so that all concerned are brought up to speed making all concerned a healthy happy process knowing everything is as it should be. I can only tell you from experience I know for a fact because I was a patient that Plainfield Health Care Center deserves and has earned all the credit of a Five Star facility plus. My humble thanks to this well educated and caring staff.
This is such an awesome place!! We are so thankful that we found a wonderful home for our mother. She has made great friends. We can't express how awesome the staff is too! They take such great care of her and always treat her with respect! We would recommend this facility to anyone looking for an excellent place to call home for their loved one!
My father was recently an inpatient for Rehab after suffering with pneumonia in the hospital. The nurse staff, OT/PT, aides etc. are very professional and caring with their patients. They listen thoroughly to the patients as well as the family members. The Admissions and discharge personnel are very knowledgeable and communicate all steps related to the process. Would recommend this facility for any rehab needs.
Plainfield Health Care Center has by far been the best place I could have ever chosen to take care of my Aunt. The staff has always been so helpful and attentive to all of our needs. I love all the great activities they offer to the residents.